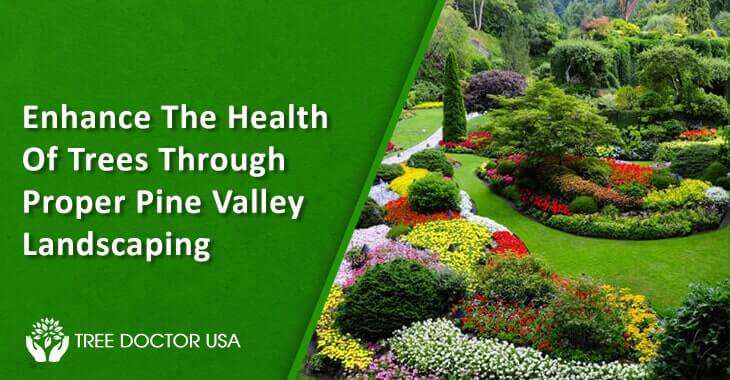 Enhance The Health Of Trees Through Proper Pine Valley Landscaping
Are you searching for pine valley landscaping to protect your trees? Want to get a 100% best result? If yes, then without any further delay, you can hire professional landscape architects in Pine Valley from Tree Doctor USA.
You can able to gain a lot of advantages through Pine Valley landscaping in the most effective manner. Have a look at the below to check out the further details.
What are All Damaging Tree Health in Pine Valley?
Natural disasters, climatic conditions, pest & fungal infestations and harsh chemicals are damaging the health of trees. Along with that, mineral deficiency, inadequate mineral soil quality, improper maintenance and invasive insects bring more damage to landscape trees.
The structural integrity, health and growth of trees are very much essential. During Mediterranean climatic conditions, trees must need better and proper treatments for soil deficiencies and pest and disease control. During that time, Pine Valley landscaping is the best choice.
Effective Tree Healthcare Solution:
The effective tree healthcare solutions in pine valley landscaping are:
Tree Services
Tree removal
Tree trimming
Emergency tree services
Tree lacing and shaping
Tree Healthcare
Tree preservation
High-quality tree nutrition
Arboriculture consultation
Organic tree and shrub fertilization
Soil care treatment
Best Treatment of Diseased Trees
Fire blight treatment
Anthracnose treatment
Root rot treatment
Bot cankers treatment
Sudden oak death treatment
Xylella treatment
Fusarium treatment
Insect Control and Prevention
Shot hole borer control
Gold spotted oak borer control
South American palm weevil control
Ambrosia beetle control
Boring insects control
Scale control
Moths control
While flies control
Spider mites control
Pine Valley Landscaping Can Increase the Value of a Home:
The landscape architect can increase the value and standard of your home. It is the best advantage that you can get from those experts. Booking those specialists is the best investment you can invest in your home.
Around 15%, the pine valley landscaping can increase the value of your home compared to other houses. When you hand over the task, they will start their work quickly by designing the outdoor living space.
Due to that, it not only increases the value but also can increase your living space. You can enjoy nature by being in your home. Their motive is to make your space more environmentally sustainable.
Pine Valley Landscaping Has a Unique Plan:
If you have some idea about the pine valley landscaping, and if you try it on your home without any home, you will surely fail. There are a lot of procedures and skills required in it.
During that time, hiring the best landscape architect in pine valley is the right choice for you since they have many unique plans. Those experts are specially trained to discuss the landscape transparently.
Suppose your property is in trouble; they will analyze and check out the possibilities of doing pine valley landscaping. They will always have a solid plan for all kinds of spaces. Hence, they will quickly plan your design too.
Based on your needs, top pine valley landscape architects will suggest the best colors, textures, styles, and perfect materials for the landscape project. Sure the landscape architect will save you a lot by handling the entire task, and you can be stress-free.
Pine Valley Landscaping Can Design Low-Maintenance Gardens:
The best pine valley landscape architects are trained in this field and know how to design low-maintenance gardens with unique native trees and plants. It can be possible only through the experience of professionally trained architects.
Most architects will never feature native trees and plants for you, in case you want low-maintenance gardens. At that time, without any hesitation, you can hire pine valley landscape architects to get what you want.
The native trees and plants can reduce chemical applications and water costs. The trends followed in the native trees and plants are known as Xeriscaping. This process mainly reduces the requirement for supplemental watering.
Pine Valley Landscaping Can Place Trees in the Perfect Spot:
To reduce your energy bills, the best landscape architects in pine valley will put some effort and place the trees in the right spot. Due to that, you will only get lower energy bills.
Many theories also proved that correctly placing large shrubs and trees can reduce energy bills by lowering cooling and heating costs. An architect with more knowledge of pine valley landscaping can make it possible. The landscape architect in pine valley has all types of those qualities.
Pine Valley Landscaping Can Add Permeable Paving:
In general, landscape architects in pine valley have experience adding permeable paving to your space. This permeable paving can add beauty to the sidewalks and patios and provide various solutions for driveway flooding.
It is possible to encourage groundwater recharge and reduce runoff. The architect also can combine the permeable paving into the home landscape in an ultimate manner.
Pine Valley Landscaping Can Design Amazing Rain Gardens:
The famous landscape architects in pine valley can design the most extraordinary and beautiful rain gardens in your space. At first, they will plan perfectly and then create a rain garden for backyards that will be placed appropriately. This process would surely experience seasonal flooding.
Rain gardens can also create a habitat for beneficial insects and birds in the most advanced manner. The rain gardens' design helps filter the rainwater runoff away from lawns and sidewalks. Then it will let the water penetrate back into the ground. The visuals will be more beautiful and impressive than the French and storm drain.
Pine Valley Landscaping Can Design Natural and Cool Swimming Pools:
If you want to swim in a natural environment by being in your home, then sure you can hire the famous pine valley landscape architects. They know how to design a natural swimming pool based on your space.
You can feel the natural environment by completing the process. The natural pools are not like the aquamarine-coloured pools. The natural swimming pools ultimately feel like a natural pond.
It can also provide the complete advantages of the chlorinated pool with harsh chemicals and low maintenance. You can also give your suggestion to the architect. If it is worthy and better than their idea, sure they will hear and create you an all-natural and beautiful backyard swimming pool.
Pine Valley Landscaping Can Complete the Task Very Quickly:
As the landscape architecture in pine valley is more experienced, they know how to complete the task quickly. Without making any issues, with the help of their team, they will perform the pine valley landscaping work. Initially, they will tell you when they can complete the entire process.
Sure before the date itself, they will complete everything. If they want any extension, they will inform you about this situation a few days before themselves. This process mainly shows their professionalism.
Final verdict:
From the scenario mentioned above, you now know about Pine Valley landscaping. So without further delay, you can start taking care of your trees through pine valley landscaping. Finally, you can enhance the health of your trees through proper pine valley landscaping.