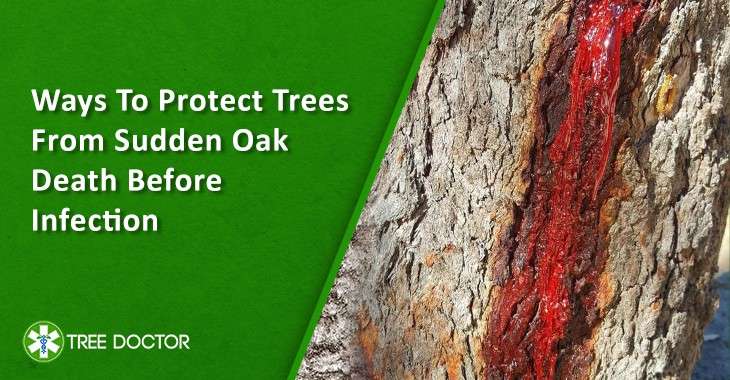 Ways To Protect Trees From Sudden Oak Death Before Infection
Sudden Oak Death is the name for a disease caused by Phytophthora ramorum. This recently introduced non-native pathogen has killed thousands of oak trees in 14 coastal counties in California alone. The disease can be moved long distances quickly in infected plants, and professionals use phosphonate fungicide for both sudden oak death prevention and infected oak tree treatment.
What Is A Phytophthora Ramorum And How Does It Spread Sudden Oak Death?
The pathogen is similar to a fungus, but it is closely related to some marine algae. P. ramorum affects tree parts above the ground level. It's one of the most destructive diseases of oak trees, and the fungus is deadly and can wipe out all trees in one's orchard. Young plants are particularly vulnerable and usually decline as soon as sudden oak death disease progresses and infects the trees.
The pathogen thrives mostly in wet conditions by forming sporangia (sacs of spores) on infected parts of a tree. When it's windy or rainy, there is a spread of sporangia. Also, zoospores are released when they land on a wet surface. They germinate and infect the oaks, starting a new infection that leads to sudden oak disease.
P. ramorum also makes thick-walled resting spores called chlamydospores in infected tree parts, which gives it leverage to thrive under extensive heat and drought and persist for months in soil and tree debris, making the fungus complex to deal with at times.
The pathogen can be spread aerially by wind or wind-driven rain. The pathogen moves within tree canopies from treetops to stems and shrubs, and it survives in infested plant substances, be it litter, soil, or water. It can be moved long distances in young and infected plants, thus spreading sudden oak death.
What Can Be Done To Protect Trees From Sudden Oak Death
Professionals evaluate the health care of oak trees on a regular basis to examine sudden oak diseases. When they identify infected plants, they offer accurate sudden oak death treatment to host plants and neighboring oak trees in your landscape. They also provide trunk and soil injections to enhance the strength, immune system, and healthy growth of oak trees so that they can combat the entry of fungus. However, balanced nourishments and optimum care can protect trees from sudden oak death. Still, the fungus succeeds in infecting oak trees; then it is commendable if you eliminate the spread of sudden oak death disease at an early stage.
Warning Signs Of The Phytophthora Ramorum Invasion
The usual symptoms of infection are mostly the presence of a discolored area of dead bark or cankers on the trunk. You will usually find Cankers on the trunk from ground to eye level. Also, the Cankers can be anywhere on the wood parts except on the roots.
At times, the fungi exude a viscous, saplike substance (the tree's response to infection) that can run down the trunk or stain moss and turn it brown. If the bark is removed, you will notice a patch of dead brown tissue.
When the pathogen is present, the soil environment plays a very crucial role in the development of symptoms. Symptoms do not appear unless there is an imbalance between the water requirements of the leaves and the capacity of the roots to absorb water. So, the sudden oak death fungus affects different plant species in different ways.
Not all affected species decline; some suffer tip and shoot die-back, while others experience relatively harmless leaf spotting. Sudden oak death on trees in the oak family is characterized by "bleeding" Cankers that girdle the trunks of oak trees.
When sudden oak death infects the leaves, they turn pale green, wilted, and fall readily to the ground. Shoots die back from the tips, and eventually, the tree is reduced to a bare framework of dying branches. Some trees may take a few months or even several years to recover from the sudden oak disease.
Key Visible Symptoms For The Presence Of Sudden Oak Disease
Feeder roots turn black, decayed, and become reduced in number.
Leaf margins develop brown, necrotic symptoms typical of salt burn.
Under severe waterlogging, a rapid decline of trees may occur.
The leaves wilt and die, leaving a canopy of brown, dead leaves.
A weeping stem canker occurs on the lower trunk.
Accurate Treatment Of Infected Oak Trees On-Spot
To treat infected oak trees, an integrated approach that relies on pathogen-free plants, cultural and biological controls, resistant rootstocks, and chemicals is required.
Experts come up with a range of useful treatments for sudden oak death prevention. However, phosphate is the most promising treatment for individual oak trees under the threat of P. ramorum.
Phosphate has systematic fungicidal properties, which travel via the tree's transport systems to all parts of the tree. However, this makes it ideal for sudden oak death disease treatment. In addition, it stimulates the tree's resistance to pathogen invasion and growth when it produces defense compounds and thickening of protective tree cells on tree layers which also work as sudden oak death prevention in the future.
Although the fungicide is effective as a preventive treatment on not yet infected trees, it's difficult to gauge the stage of infection for an inexperienced person. But if the infection is recent, phosphate slows down the infection's progress and potentially enhances the tree's lifespan.
Method Of Phosphate Treatment
Since this fungicide is a systematic treatment, it should be applied strategically. It is essential so that a tree can absorb and distribute the sudden oak death fungicide throughout the transport system. So, relying on professionals is crucial for optimum oak tree healthcare and control of fungus.
Injection
Injections use less phosphate and the amount applied is consistent from tree to tree. The method is the most trusted because it doesn't cause any chemical drift in the environment, but it's a bit complicated to apply unless you are a professional.
The applicator must use a syringe that applies constant pressure for the tree to be able to absorb, and you can simply do this on sunny days when the tree is most active.
How To Keep Oak Trees Healthy And Vigorous?
To keep the oak trees healthy and vigorous and avoid sudden oak death infection, you have to take good care of the infected trees. Also, you should maintain the quality of soil and optimum fertilization.
Recommended Measures
Irrigate attentively, avoiding both over and under irrigation.
Increase the organic matter content of the soil using ground covers and mulch, and keep mulch away near tree trunks.
Put gypsum under the canopy of the tree to discourage the formation of spores.
Fertilizing an oak tree helps keep it healthy and disease-free.
Watering, nurturing, and oak tree fertilization regularly helps keep oak trees healthy and vigorous to tolerate stress, insect infestation, and diseases.
Maintaining Nutritional Balance In Oak Trees By Providing Adequate Nutrition
For maintaining nutritional balance in oak trees, systemic chemicals are a necessity in addition to cultural practices. Watering deeply, to one to two feet, in the outer two-thirds of the root zone is ideal.
Alternatively, offering organic mulch under the tree can conserve moisture in the root zone by reducing surface evaporation. Mulch also inhibits the growth of weeds, which can compete with oak roots for moisture and nutrients.
Nitrogen is the primary nutrient of value to oak trees, but prior to rain or irrigation, you can apply it on the ground to cover the outer two-thirds of the root zone. It can be injected with water or placed into holes dug into the ground.
Experts recommend applying fertilizers at a rate of two to four pounds of actual nitrogen per thousand square feet of area. For instance, if a nitrogen fertilizer contains 20 percent elemental nitrogen, you can apply 10 to 20 pounds per thousand square feet of area. Organic slow-release nitrogen sources are preferable, and you should try to apply them in late winter to allow them to move into the root zone, thus creating a nutritional balance in the oak trees.
Takeaway
Sudden Oak Death is the name for a disease caused by Phytophthora ramorum. The fungus can move long distances quickly via infected plants ,and experts use phosphonate fungicide for prevention and treatment.
Phytophthora ramorum is similar to a fungus, but it is closely related to some marine algae, and it affects tree parts above the ground level. It's one of the most destructive diseases of oak trees. Mostly, the affected trees decline as soon as they are infected by the sudden oak death disease. The pathogen thrives mostly in wet conditions by forming sacs of spores on parts of a tree. The symptoms of this pathogen are that the feeder roots turn black, decayed, and become reduced in number, and leaf margins develop brown, necrotic symptoms typical of salt burn. For treatment, you have to consult expert arborists to apply injections of phosphate to the infected trees and treat sudden oak death diseases.