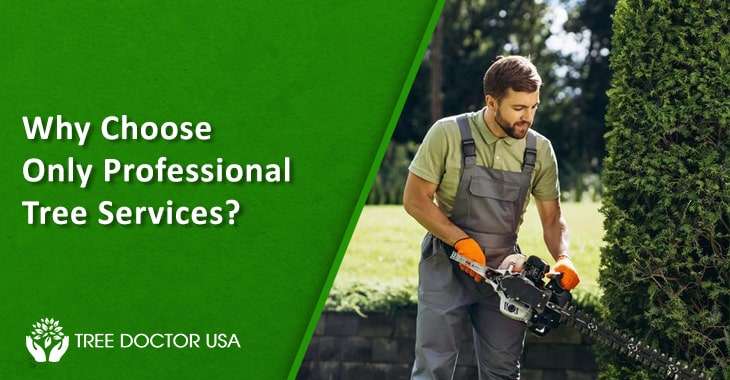 Why Choose Only Professional Tree Services?
Carlsbad is renowned for its picturesque surroundings and mild coastal climate. By improving the appeal of the Carlsbad region one tree at a time, Tree Doctor succeeds in providing high-quality, professional tree health services.
Tree Doctor USA is a great option when you want to maintain the strength and health of the trees and plants in your environment. They are among the greatest tree preservation businesses, providing beneficial services and attention to protecting trees.
Services Provided by Carlsbad Tree Services
When dealing with a tree service firm, evaluating their skill by concentrating on their past performance is simple. Tree Doctor Service has a long and illustrious history, with trees constantly taking centre stage in their landscape designs.
The Major Services They are Renowned for in the Area are Listed Below:
Removing Trees
Tree cutting is enjoyable. However, working with a firm with a bad reputation and insufficient training might quickly develop into a scary experience. To handle all aspects of tree cutting, pruning, and trimming, Tree Doctor will arrive at your location with a full-fledged tree service staff that has received professional training and is well-equipped.
They promise faultless tree care services using top-notch equipment and cutting-edge chainsaws to help you save time and money. They have the necessary expertise to manage any tree-cutting project because of their many years of experience in Carlsbad, California, and surrounding areas.
They prune, cut, and trim various trees, including oak, pine, sycamore, willow, Douglas fir, maple, redwood, and palm trees.
Tree Trimming
Due to its ease and popularity, tree trimming is one of their main specializations. Examining whether the trees in your yard are reaching the house or scratching the windows can help determine whether they need to be pruned.
Another sign that you require tree trimming services is if your trees are bending out of shape excessively. Perhaps you are already aware of the effects of having a limb in your yard that is excessively twisted. In case of such problems, Tree Doctor is a reliable solution.
Tree Pruning
The maintenance of your safety and the aesthetic appeal of your yard depends on the essential tree trimming service. It is useful when trees have too many branches and start to detract from curb appeal instead of adding to it.
In addition to helping you save money, tree Doctor trimming services aim to preserve the current trees' symmetrical beauty. You may anticipate the greatest outcomes money can buy when you work with them or prune trees.
Tree trimming may improve your home's curb appeal by giving it a distinctive look that highlights your style and personality. Sometimes the only problem you have is a mysterious tree disease that has made its way into your healthy, wonderfully growing trees.
Its expert tree service providers can significantly impact this situation by offering long-lasting remedies through routine monitoring. Additionally, if you have a lot of dead branches in your yard, you might want to hire the best of Carlsbad tree care services to take care of the problem for a reasonable fee.
Removal and Grinding of Stump
Do you find any tree stumps? Contract with Carlsbad Tree Service. Having a tree stump in your yard is risky and reduces your home's aesthetic value. It may include fungus and parasites that easily spread around your yard and harm the healthy trees.
One of the most in-demand tree care services nowadays is tree removal. But this does not imply that the procedure will be simple or enjoyable. If dealing with a reputable business that prioritizes customer satisfaction is important to you, get in touch with Tree Doctor USA Service at any time.
Following removing the tree stumps, we will clean the area and, based on your preferences, either fill it with earth or grass. Tree stumps have never looked well on residential or commercial sites. That's why you need to contact specialists right now.
Tree Cutting
Trees that are sick, dying or dead can only be removed. However, even with unhealthy trees, the procedure will be difficult, so you need to hire a professional to handle it—or at the very least, oversee it—to ensure it is done right.
Tree removal is a complicated process involving many factors to consider before beginning the real work. For instance, if a tree leans toward your property and is not properly removed, it might cause significant harm.
Also, if you don't have the necessary skills, equipment, or vehicles, dealing with most tree components might be challenging. Tree doctors have up-to-date cranes and bucket trucks to make sure every process goes off without a hitch and is completed successfully.
Additionally, they use some of the most dependable tree climbers in the Carlsbad, California, region, so you never have to be concerned about safety.
Tree Health Experts
Experts from Tree Doctor at Tree physicians are chosen by hand from a pool of highly skilled experts with the necessary education and proficiency in spotting issues before they become serious.
They have a clear-cut, all-encompassing philosophy that speaks volumes about maintaining a landscape and specialize in tree risk assessment and health.
To guarantee that every service, whether risk management or identification, meets your needs, they combine innovative technical breakthroughs with an unrivaled visual survey. The tree physicians will also be willing to propose the best remedial treatment, which might include bracing, cabling, or trimming, depending on the damage.
Tree Pest Management
Any slight problem with your landscaping trees may quickly become serious and endangers the aesthetic value of your entire home and your landscape. Pests may quickly transform your neatly trimmed trees into a useless corpse that serves no use other than to be dangerous.
As a team of qualified arborists, Tree Doctor USA Services will frequently check your trees for any signs of bug, disease, or pest infestation. To find pests early in their life cycles, the specialists will watch out for discolored leaves, thinning canopies, and smaller leaves. Following an appropriate diagnostic, they will suggest the best course of action and assist in increasing the value of your bush assets.