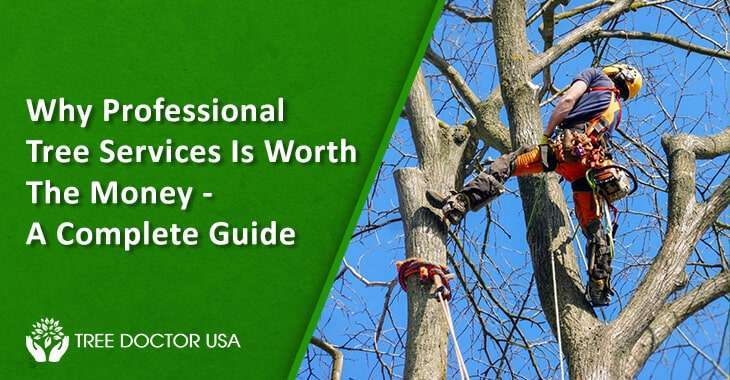 Why Professional Tree Services Is Worth The Money: A Complete Guide
Do you want to explore the benefits of hiring professional tree services in San Diego? If yes, take a look at this guide and collect all the essential details about tree services in San Diego. In general, trees in the yard play a major role in everyone's properties, appearance and overall health.
Most homeowners used to regularly conduct regular maintenance of their yards to keep the surrounding at their best. Around 90% of yard owners believe that taking good care of the backyard is essential.
Therefore the yard owners are preparing to hire the leading tree service experts and get help from them to maintain their trees, woody plants and shrubbery. You can gain extraordinary benefits by hiring these professionally skilled tree service experts in San Diego.
Benefits of Hiring Professional Tree Services:
Have a look at below to explore the benefits of hiring professional tree services in San Diego. Those benefits are:
Healthy Trees
Generally, a professional tree service expert effectively offers a wide range of benefits to all homeowners. Among that, healthy trees are one such benefit that plays a major role in all kinds of processes.
When you hire the leading professional tree services, they will send a highly reputed arborist to your spot. They will thoroughly assess the condition of your trees on your property and then make all recommendations for special care, including mulching, pruning & fertilisation.
By taking all necessary steps, your trees in the yard are effectively able to overcome pests, disease and the effects of complete weather conditions. It can enhance the tree's life and keep it looking its best.
Enhance the Overall Safety of the Property
Properly trimmed and maintained trees can help prevent various dangerous conditions like roots growing up via the foundation, limbs falling on the car or house or the branches holding up the traffic flow.
Then by keeping your trees well-groomed and healthy, you can completely reduce various risks to the property and yourself. There is also another safety benefit approach you can explore through professional tree services is nothing but the removal of dying or dead trees.
It will put everything at risk to both property and people since they may fall without warning. Removing those trees before they have the chance of causing damage is always the best approach to make an effective impact.
Enhanced Appearance
You must get ready to face negative results if your trees have been overgrown due to lack of care or maintenance. An overgrown tree can overshadow your home and block views completely, which makes it look unattractive and messy.
Pruning and trimming by a professional tree service expert can make a huge impact and create a big difference. The service can give you a well-maintained and neat appearance that can make your neighbours jealous.
Additionally, sufficiently trimmed trees can succumb to storm damage or disease. Therefore when you want to enhance your property's look, hiring the leading professional tree services is the better choice.
Property Value Increase
Investing the professional tree services can help you enhance not only the aesthetic of business or home, but also can increase its value completely. Trees have the extraordinary potential to increase the value of the property to the next level by 20%.
It is also the first thing among potential buyers to notice about the property. A perfectly maintained landscape with the high-quality trees can signify the well cared for home that most buyers search for.
If everything satisfies, then sure buyers can get ready to buy your property. To get all this done effectively, you need to hire the professional tree services.
Also Read: Secret To Vigorous And Healthy Growing Trees
Reduced Energy Bills
The surprising benefit of the professional tree care services is that it can most effectively help you save a lot of money on the energy bills. Trees that are trimmed and positioned correctly can offer the shade for the home and keep it cooler during the summer season.
It means that there is no need for you to use air conditioning. With that, you can save more money in the long run and expect a great return. By considering such factors, everyone started hiring the leading tree services to keep the trees in the perfect condition.
Increased Privacy
Usually, trees can also offer security and privacy for the home. Well trimmed trees can also help to obscure the property view from the street. Dense trees can offer you the natural barrier that prevents intruders very effectively. With that privacy, you can keep on grabbing more benefits without any limitations and hence stay with all those factors.
Better Air Quality
At present, air quality in major parts of the world has worsened due to many reasons and factors. Those factors and reasons include vehicle emissions, agricultural activities and industrialization. Trees play a major role in enhancing the air quality to the next level.
It can release clean oxygen into the atmosphere by absorbing the harmful pollutants very effectively. You can get help from the professional tree services for making such things possible without any issues. These experts can be with you the whole day to support the entire process.
Better Stress Relief
The major benefit of the professional tree care services is that it can help you under many circumstances to reduce stress very effectively. Spending time in nature can be shown to have a calming effect on the body and mind without further delay.
Taking care of your trees can make you feel more relaxed than ever. When you want better peace of mind, then you can start investing in the trees.
Conclusion:
From the above mentioned scenario, now you have got the better idea about the benefits of hiring Professional tree services in San Diego. Without further delay, get all help from these experts and achieve everything in this process.
Tree Doctor USA is the leading firm to offer you extraordinary professional tree services. Get their help and support today!