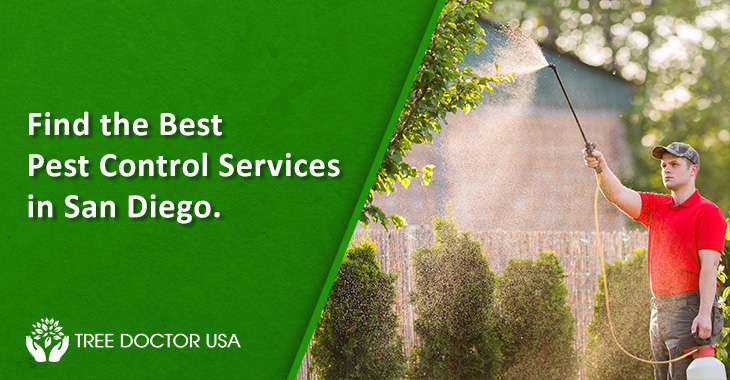 Find the Best Pest Control Services in San Diego – A Brief Review
The mild weather in San Diego may be convenient for its residents, but it also appeals to the city's insect population. Rural San Diego towns see higher rates of rodent and animal infestation, whereas settlements in the desert are more vulnerable to bug issues.
For instance, ants come indoors in search of water and nesting places during dry spells in the San Diego region, especially in the eastern desert regions of the county. Hiring pest control services in San Diego might solve these problems.
What kind of pests do you find in San Diego?
San Diego is home to many pests, from stinging insects like wasps to rodents like rats and mice. The most typical pests you'll encounter as a San Diego homeowner are listed below.
Termites
In Southern California, dry wood termites are highly prevalent. They may seriously harm wood buildings quickly, although not being quite as destructive as subterranean termites.
Cockroaches
In San Diego, four different species can be found. German cockroaches, in particular, are tough to get rid of because they lay so many eggs and can contaminate food and spread disease.
Ants
Several ant species are widespread in San Diego. The Argentine territorial ant is the most bothersome. This kind of ant invades your home in quest of food and constructs nests beneath dwellings in a network of colonies.
Spiders
Venomous spider species like desert recluse spiders and black widows can be dangerous to humans, especially young children and the elderly.
Wasps
When yellow jackets construct nests outside of homes, it may be a serious problem in San Diego. Experts should only handle them since they are very aggressive and are known to sting.
Rats
The problem with rodents is that they reproduce very fast and can constitute a safety risk by gnawing through electrical wires, contaminating food, and spreading illness.
Ticks and fleas
These bugs enjoy warm climates and feast on blood. A pet probably brings them in.
Why do you need to hire pest control services in San Diego?
Like many other pests, dry wood termites are an issue that San Diego residents frequently encounter. You can't simply set off bug bombs in the house and hope for the best, although you may believe these pests are simple to deal with. It is advisable for specialists to apply pesticides and to handle them cautiously.
Pest control services in San Diego can do the task more quickly and successfully because they can access supplies and equipment unavailable to most households. Professionals also know to accurately identify the bug you have and determine the seriousness of your problem.
Orkin, Rentokil, Terminix, and Orkin are a few of San Diego's top pest management firms. Each one of these businesses is equipped with the tools, goods, and know-how to keep houses free of common household pests. In addition, certain San Diego-based local pest control companies could be able to handle and fix your tree insect control.
Best 6 pest control services in San Diego:
Terminix
In general, it is the #1 pest control firm. Although Terminix is best known for its termite control services, the pest management firm offers protection against over 12 typical homes and more unusual pests like bed bugs and ticks. Graduate-level entomologists and certified members of the Entomological Society of America are on Terminix's staff of pest management experts.
Pros:
Serves 2.8 million clients across the country
Has more than 90 years of experience in the field
Real-time client support through online chat features
Cons:
The cost of the one-time service is more than that charged by other businesses.
Orkin
It is one of the top pest control businesses for immediate assistance. In addition to bed bugs and termites, its general pest management program offers defense against over 20 other common household pests. Orkinfoam is used to combat wood-eating pests.
Pros:
Highly qualified professionals complete one hundred sixty hours of specialized training.
An integrated pest management strategy includes everything from pest detection to treatment and monitoring.
There are 1.7 million business and residential users countrywide.
Cons:
No online customer care service provided
Inaccessible in WY, AK, and SD
Aptive
Aptive is regarded as the brand that offers the greatest consumer customization since it may alter programs following certain pest management requirements. A range of pests, such as roaches, spiders, fleas, stinging insects, silverfish, and more, are all protected by Aptive.
Pros:
Aptive will visit your house at no additional cost if you encounter problems between appointments.
A Four Seasons Protection Plan includes a first visit and quarterly applications.
It is dedicated to supporting the local community.
Cons:
Limited availability around the country
Customers remark pushy sales techniques
Tree Doctor USA
Insects and pests are more inclined to attack stressed or fragile trees and plants. Careful monitoring, targeted tree pesticides, and upkeep are necessary to manage insect and pest development in trees, plants, and shrubs.
To ensure ecological sustainability, Tree Doctor USA treats tree borer infestations by eradicating all dangerous pests while protecting helpful and harmless insects. With professional monitoring and treatment options from Tree Doctor USA, you can guarantee your plants' effectiveness and structural integrity.
They stay updated on all safety regulations and best practices for tree health care and pest control procedures. To ensure a smooth workflow and a secure working environment, their well-trained and conscientious crew works diligently to finish all tasks with the least possible disturbance.
Pros:
Well trained professionals
Customized reports and treatments.
Also Read: Tree Pest Control: Essential Tips For Keeping Your Trees Healthy
Rentokil
With branches worldwide and over a century of expertise in the field, Rentokil is a well-known name in pest control. Rentokil provides various services to eliminate and prevent pests, including termites, roaches, and ants.
Rentokil emphasizes eradicating current pests and avoiding new infestations. Rentokil provides integrated pest management (IPM) services.
As part of the IPM method, your pest control professional will assess the circumstances of your house, the insect's life cycle, feeding and breeding behaviors, and environmental factors before developing a treatment strategy specific to your requirements.
Pros:
Expertise from both the national and regional levels
General pest control strategy that is most thorough
Bed bugs are a part of the whole strategy.
Tick and mosquito services are combined.
Cons:
It might be challenging to reach Rentokil, and no online chat service is available to customers.
Because of its connections to other pest treatment businesses, the Rentokil website is not very user-friendly.
Clark Pest Control
The first step in getting Clark Pest Control San Diego is having a professional and certified service specialist evaluate your house and yard thoroughly. The specialist will identify areas of pest activity during this inspection, and you will receive a fully personalized strategy to treat and eliminate entry points and nests.
A comprehensive examination of your property, an outside treatment every two months, and the elimination of spider webs are all part of Clark Pest Control's Pest-Away program, which activates within 30 days of your initial pest control treatment. Additionally, the business provides garden and yard maintenance services.
Pros:
Use environmentally friendly pest control methods.
Assurance of client satisfaction and user-friendly experience
Provides Same-day service
Cons:
It frequently takes numerous treatments to manage the problem.
The narrow scope of services
Conclusion
Hiring a professional pest control company is one of the best methods to quickly, safely, and affordably eliminate a current insect invasion. Not every pest treatment business can prevent every pest or eliminate every kind of infestation that already exists.
To be sure they are qualified for the task, we advise researching local businesses that can eliminate the particular pest you frequently notice and service your region. Always study internet reviews and professional evaluations to examine their reputation and learn how they function for clients in your region similar to yours.
A competent professional pest control service in San Diego must possess all the necessary industry and local licenses and certifications. You can always count on Tree Doctor USA for its various services, ensuring a healthy and safe environment.